Ice Storms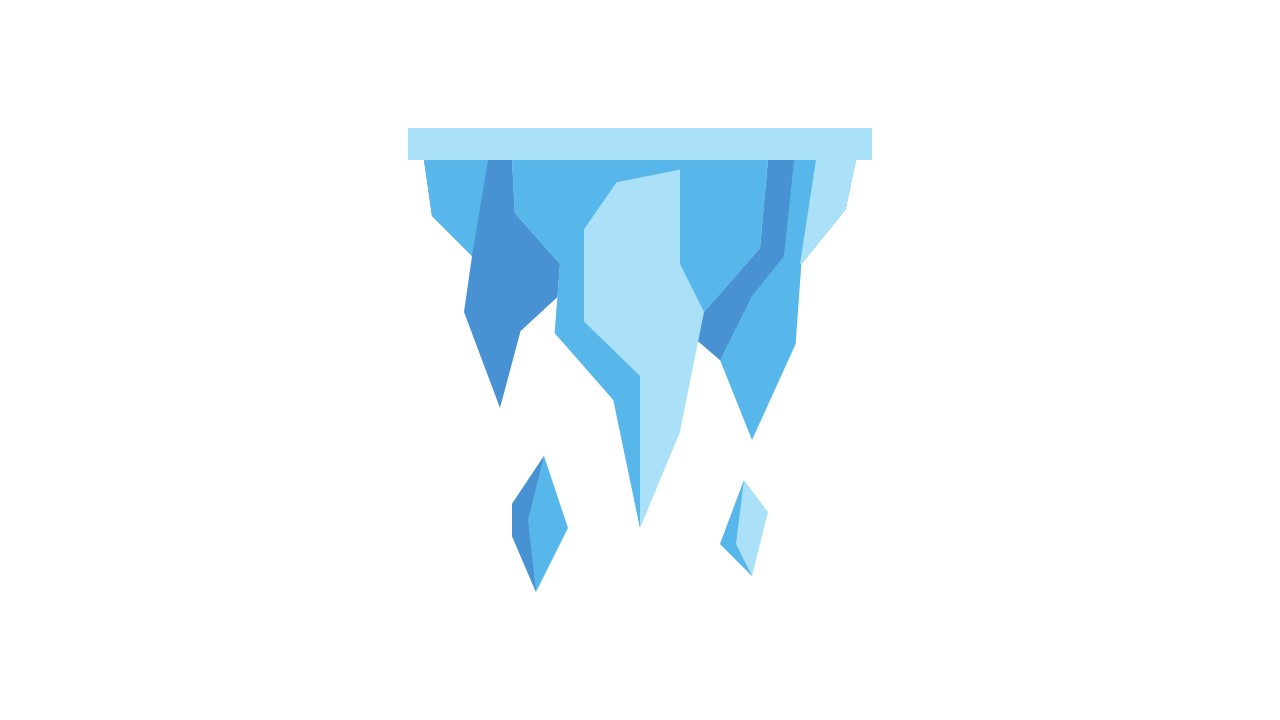 One type of winter storm that can be particularly damaging is the ice storm - a storm in which freezing rain occurs and glazes roads and other exposed outdoor surfaces.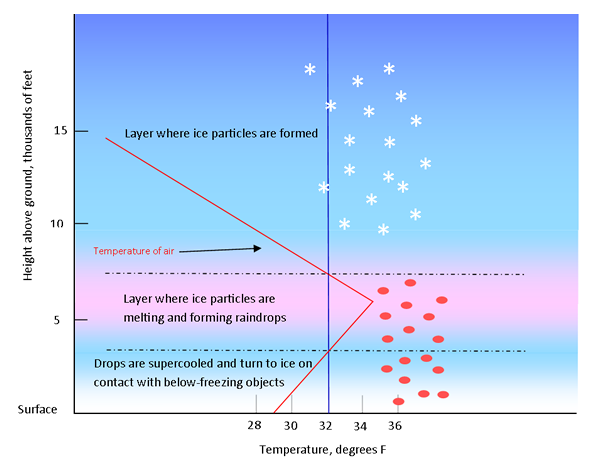 Freezing rain occurs when rain forms in a relatively warm (above freezing) layer of air and falls through a shallow layer of air that is below freezing. The rain is "supercooled" (still liquid) as it falls through the cold layer near the surface of the earth. When the supercooled, but still liquid, raindrops strike the ground or an object below freezing, they freeze on contact. The resulting coating of ice is commonly known as glaze .
A heavy accumulation of ice can topple power and telephone lines, television towers, and trees. Highways become impossible to travel on, and even stepping outdoors on foot can be extremely dangerous.
The severity of an ice storm (that is, the amount of damage) depends on:
The amount of rain and thus icing taking place;
The strength of the wind;
Whether the storm strikes an urban or rural area.
Urban areas tend to suffer more economic and physical damage than rural areas because of the concentration of utilities and transportation systems (aircraft, trains, vehicles) — all of which may be affected to a great degree by the ice storm. Trees and power lines, in particular, can be heavily damaged. A half inch of ice on a tree branch or on power lines can add hundreds of pounds of weight. In the more severe ice storms, broadcast towers and similar structures hundreds of feet high can be crumpled by the weight of ice.
Typical Weather Patterns for Freezing Rain in the Midwest
There are three winter weather patterns that tend to favor freezing rain in the Midwest ( Rauber et al 2001 ).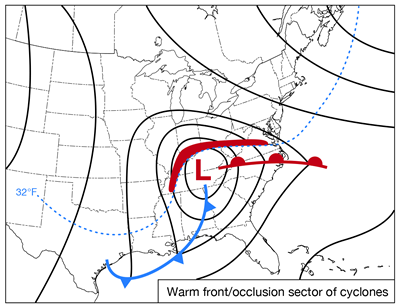 This is the typical winter storm "model" in the Midwest. The majority of the precipitation tends to occur north and west of the low pressure center (red band on the map). Rain can generally be found close to the low center and to the southeast where the temperature will be greater than freezing several hundred feet above the ground. The freezing rain will develop where the cold air near the ground is the shallowest, just north of the low center. North of the freezing rain area will typically be a band of ice pellets (sleet) and then further north, snow. In this situation the freezing rain tends to be light and of relatively short duration.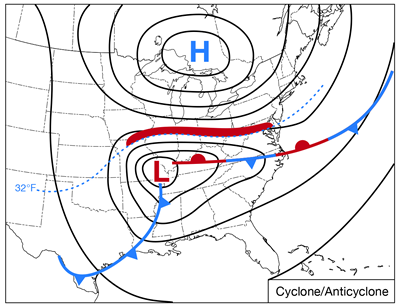 This weather pattern differs from the first one in that the surface high pressure system is centered due north or northeast of the low pressure center. This setup maintains a flow of cold air near the surface and prevents the northward advancement of warmer air. Strong southerly winds in the warm sector southeast of the low feeds, moist air northward over the frontal boundary resulting in rising air which forms clouds and precipitation. This weather pattern typically results in the most severe ice storms. The severity arises from the tendency for the precipitation to be of long duration resulting in heavy icing, high winds in the area of ice accumulation due to the pressure difference between the high and the low, and surface temperatures well below freezing.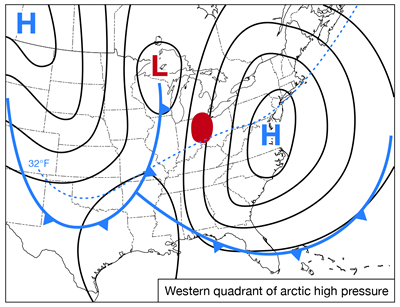 This weather pattern for freezing rain is the least common in the Midwest, occurring less than a third of the time compared to the previous two patterns. Southerly winds on the west side of the high and in advance of the low and trailing cold front can produce a band of clouds and precipitation. Freezing rain tends to occur in a circular pattern just north of the 32°F isotherm.
The Frequency of Freezing Rain
The Midwest and Northeast are prime areas for freezing rain events. Note the high frequency areas in western Minnesota and western Iowa, and the band from central Illinois eastward through northern Indiana, Ohio, and eastward. In the high frequency band in the Midwest, an average of 12 to 15 hours of freezing rain occurs annually. While freezing rain can occur anytime between November and April, most freezing rain events occur during December and January.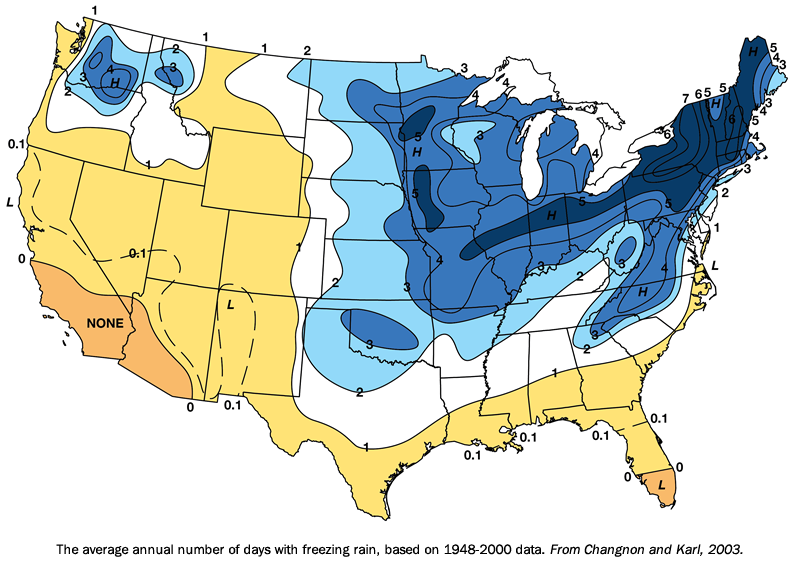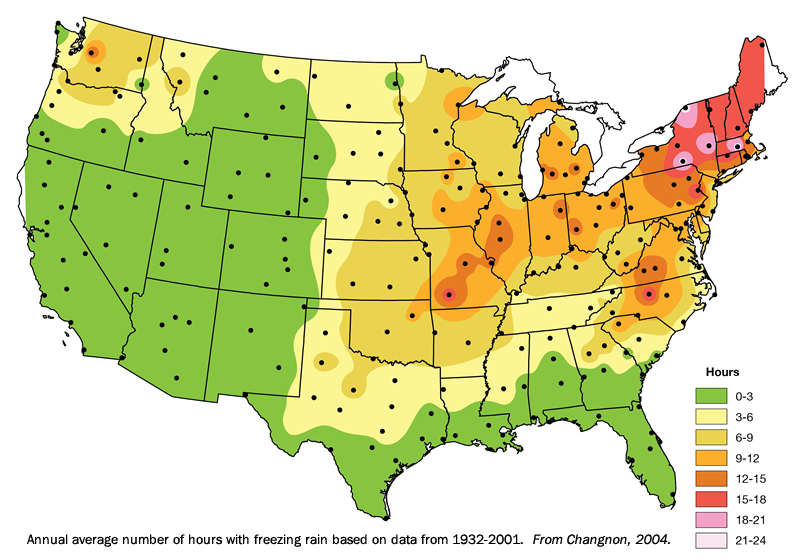 Preparing for Ice Storms
A quarter inch of ice will glaze roads and seriously impact travel, result in some tree damage, and cause power outages. However, when ice accumulates to one half inch or more the major and crippling effects of ice storms occur. Strong winds during ice storms greatly compound the damaging effects by causing added stress to trees and power lines already laden with a heavy accumulation of ice.
Unlike snowstorms where in most cases the snow can be plowed in hours or a day, the damaging effects of ice storms can go on for days or even weeks. Travel may be literally impossible due to ice covered roads and sidewalks, downed trees, and downed power lines. If your vehicle is outside and becomes encased in ice it may be difficult to get into. You may unable to leave your home and be without power and/or heat for days or longer, and no one may be able to reach you until either roads have been salted and cleared or the ice melts. Be sure you prepare with this in mind.
When an ice storm and/or significant icing is forecast, make preparations early as you would for any winter storm. Since heavy ice accumulations and/or strong winds will likely result in power outages, possibly for extended periods of time, additional steps should be taken to prepare.
Make sure flashlights and battery-powered radios are working, and keep extra batteries, candles and matches on hand.
Unplug sensitive appliances such as the TV, DVR, computers and microwave. If the power goes off, turn off all major electrical appliances. Prolonged low voltages (brown outs) can damage motors and compressors.
Keep refrigerator and freezer doors closed. If you lose power, frozen food will generally keep for 48 hours. Discard perishable food that has been at 40 degrees for more than two hours. Odor or appearance is not an indicator that food is safe. When in doubt, throw it out.
If you use an emergency-heating source such as a wood stove, kerosene heater or fireplace, keep fuels away from the flames and ventilate properly. Never leave a fire unattended.
If it seems likely that your home will be without heat for several days, drain your water pipes.
If you use a generator, read all the instructions that accompany it and be aware of the hazards that come with misuse. Use a qualified electrician to connect a generator to the house wiring. Never run a gasoline-powered generator in the house-the fumes are deadly
Notable Midwest Ice Storms
Freezing rain occurs just about every year somewhere in the Midwest, but the big, damaging storms are more infrequent.
Missouri-Illinois-Indiana-Kentucky Storm: January 2009
During the last week of January 2009 a major snow and ice storm hit the southern Midwest. Heavy snow fell from eastern Missouri across south-central Illinois into central Indiana. Six to eight inches of snow fell in the St. Louis metropolitan area, with 12.5 inches in the Indianapolis area, the sixth largest snowstorm on record. However, the higher totals were found south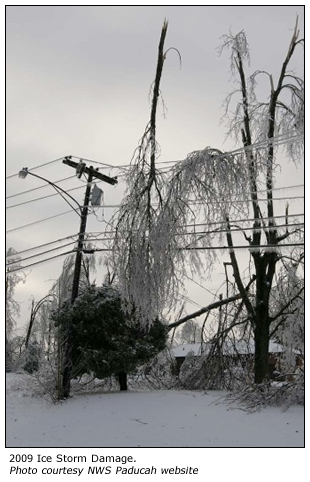 of Interstate 70. Freezing rain occurred south of the snow area.
Ice accumulation from southern Illinois through south central Indiana and into central Ohio ranged from 0.25 to 0.50 inches. In extreme southern Missouri, far southern Illinois, southern Indiana and northern Kentucky and far southern Ohio the ice was more than an inch thick, with up to 1.5 inches in the Ozarks of Missouri. Total precipitation from this storm exceeded three inches for much of southern Kentucky.
Tree and power line damage was massive from Missouri to Ohio. Power outages were widespread from Missouri, where there were more than 100,000 homes without power, into Indiana. Ameren Illinois reported more than 7,000 customers without power at the peak of the storm in southern Illinois. The worst-hit area was western and northern Kentucky into southern Indiana. The Kentucky Public Service Commission reported that at least 607,000 homes and business were without power following the storm, the largest power outage on record for the state. This figure did not include municipal utilities or rural electric cooperatives within the Tennessee Valley Authority system, and estimates put the total number at more than 700,000 customers. The power outages affected many public water systems limiting drinking water supplies. On January 31 Kentucky Governor Steve Beshear ordered the activation of all Kentucky Army National Guard units and some Air National Guard units, bringing the total number of guardsmen responding to the storm to 4,600.
For more information on this storm:
The Ice Storm of 2009 by Pat Spoden, Science and Operations Officer, NWS Paducah KY. MRCC The Climate Observer , January 2013.
Missouri and Illinois Ice Storm and Blizzard: November 30 - December 1, 2006
On November 30, 2006 a strong Arctic cold front was moving through the Midwest. That morning the front was near the Illinois-Indiana line. West of the front in the cold air rain changed to freezing rain, and west of that heavy snow occurred as a strong upper level disturbance moved over the region. On the afternoon of December 1, Ameren Energy, which serves a large portion of eastern Missouri and central Illinois, reported more than a half million outages serving 2.4 million customers. Damage to power lines and trees was extensive. Repair crews were hampered by incredible accumulations of ice and sub-freezing weather which prevented any of the ice from melting. It was a week before most power was restored.
For more information on this storm:
Southwestern Minnesota, Northeastern Iowa, and Wisconsin Snow/Ice Storm: February 21-23, 1922
This stands as one of the worst ice storms in Wisconsin history. There were widespread accumulations of two inches of ice, with a band of three to four inch accumulations across west-central Wisconsin.
For more information on this storm:
Winter Weather Resources
FEMA web page on what to do before, during, and after winter storms and extreme cold .
Ready.gov Kids Pages - Ready Kids! : Emergencies can be scary, but the more you know about them, the better you can deal with what comes your way! This Ready.gov section also has games plus info geared toward parents and educators.
National Weather Service Winter Weather Safety and Awareness page.
US Fire Administration/FEMA Winter Storm Fire Safety .
American Red Cross Winter Storm Preparedness information.
Winter Storm Safety and Health Guide – OSHA.
Winter, Your Car, and You – National Safety Council. (pdf)
Trees and Ice Storms: The Development of Ice-Storm Resistant Urban Tree Populations. Special Publication 94-1, Department of Forestry, University of Illinois at Urbana-Champaign. Urbana, IL 61801. 12pp.
Staying Safe During Ice Storm Recovery
Further Reading
Climate Atlas: Freezing Rain and Ice Storms. Changnon, Stanley A., 2004 ( Available from the National Climatic Data Center's online store )
Temporal and Spatial Variations of Freezing Rain in the Contiguous United States: 1948–2000 . Changnon, Stanley A. and Thomas R. Karl, 2003. Journal of Applied Meteorology, Vol. 42, pp. 1302–1315.
Freezing rain events: a major hazard in the conterminous US. Houston, Tamara G. and Stanley A. Changnon, 2007. Natural Hazards, Vol 40, pp. 485-494.
A Synoptic Weather Pattern and Sounding-Based Climatology of Freezing Precipitation in the United States East of the Rocky Mountains. Rauber, Robert M., Larry S. Olthoff, Mohan Ramamurthy, Diane Miller, and Kenneth E. Kunkel, 2001. Journal of Applied Meteorology, Vol. 40, pp. 1724-1747.
Ice and Freezing Rain Climatologies: References
This Day in Weather History for southeast Minnesota, northeast Iowa, and western Wisconsin . Rieck, Todd and Jeff Boyne, National Weather Service-La Crosse, WI.
^Top