Military Forts and Voluntary Observers Database
Weather data from 450 US stations operating during the period, 1820-1892 were keyed and more than 350 of these stations were quality controlled under NOAA Climate Data Base Modernization (CDMP) funding. This web site provides information about these 19th Century Forts and Voluntary Observers Database, referred to as FORTS data.
The U.S. Army forts recorded daily weather observations starting in the early 1800s. In the mid- to late 1800s, volunteer observer networks were managed by the Smithsonian Institution and the U.S. Department of Agriculture. These station networks eventually evolved into the Weather Bureau's Cooperative Observer Network, which continues to collect data today for the National Weather Service.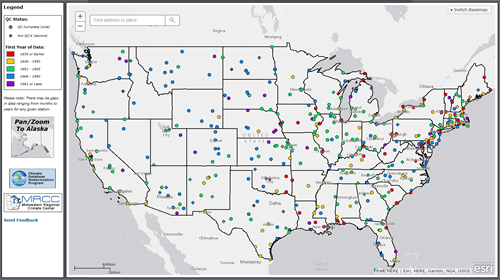 These data provide a link between the more recent instrument records and paleoclimate records such as tree ring reconstructions. The National Archives and Records Administration holds the 1800s records on microfilm. These records were scanned and indexed, and are available on-line through the National Center for Environmental Information (NCEI) and off-line from the MRCC service office. See the image inventory page for further information.
Thirty-nine distinct data types were identified for digitization, including various observations of temperature, pressure, precipitation, wind, clouds, state of the weather, river gauge height, and surface water temperature.
A series of quality control tests and procedures were applied to much of the digitized data to assure the digitized data accurately represents the observations recorded on the original documents. As funding permits, the quality control continues.
A comprehensive set of metadata was developed to complement the data set. These metadata help document changes in instrumentation and observation practices by identifying changes in the forms used by the observers. The metadata includes detailed information about each station as recorded on the forms, such as station name and location, and barometer correction and other instrument adjustments, when available.
The following is currently available through this web site:
Please contact the MRCC Service Office if you have questions or would like to obtain keyed, quality-controlled FORTS data.