Floods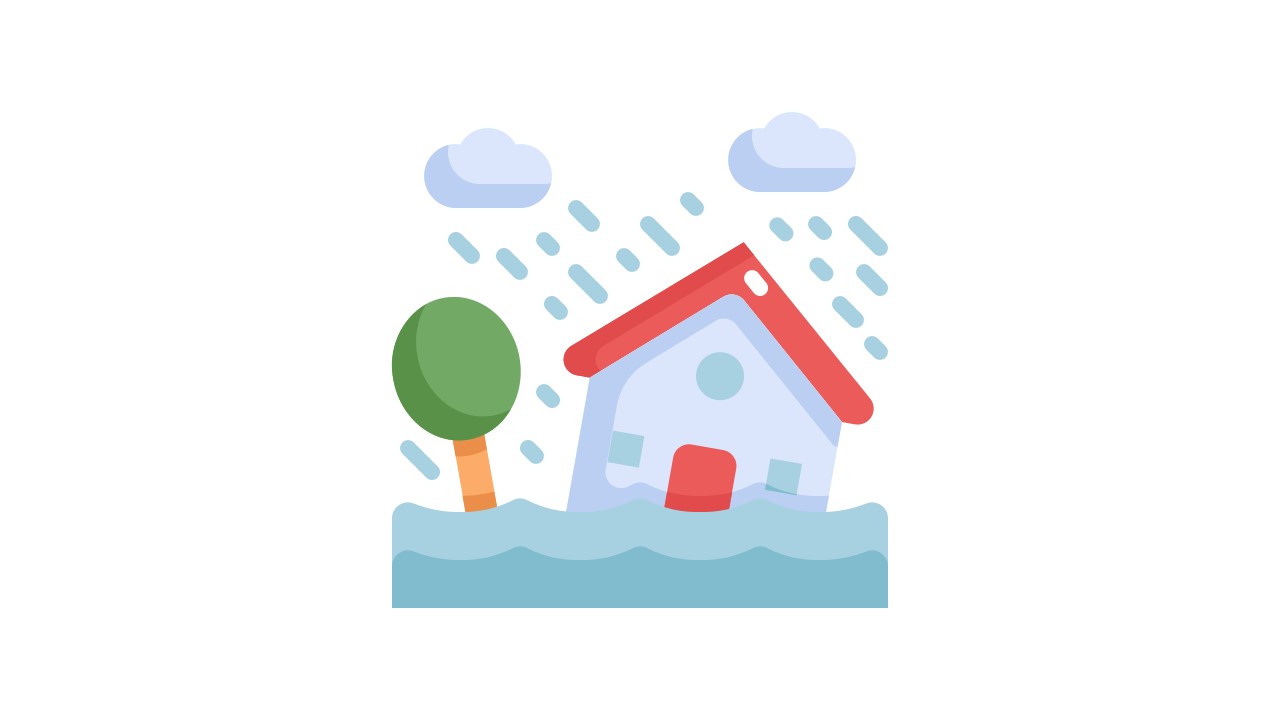 Floods are part of the Earth's Natural hydrologic cycle.
The cycle circulates water throughout the environment. This process maintains an overall balance between water in the air, on the surface, and in the ground. Flooding occurs when water is no longer confined by its usual boundaries - a river channel, an impoundment, or other waterway.
Flood Types and Causes
Floods can generally be placed into one of four categories:
Riverine
Riverine floods occur when the capacity of a river or stream is exceeded by the water entering the system. On large river systems, seasonal floods, usually in the spring, are caused when runoff from rainfall over frozen or saturated ground empties into rivers and streams. This can be further exacerbated by the melting of any snow that is on the ground. In large river systems such as the Mississippi, Missouri, or Ohio, the rise can be slow and floods can last days or weeks. Riverine floods can also be caused by ice jams on a river. As the weather warms and the ice begins to break up, it can pile up against bridge supports or other constricted locations, causing the water upstream of the jam to back up and cause flooding.
Smaller rivers and streams, in particular, are susceptible to flash flooding. Flash flooding results from heavy rain over a localized area when the rainfall rate exceeds the capacity of the drainage in an area. These are typically rapidly occurring events and water levels can rise very quickly in a short amount of time. Factors that affect the susceptibility of an area to flash flooding include terrain, the amount of water already in the soil, and the current capacity of the waterway.
Areal or Overland
Areal flooding can occur when heavy rain falls over a relatively flat area with saturated ground. If the heavy rain is of long enough duration the water cannot drain fast enough and begins to accumulate. When this happens in agricultural areas, flooding can remove tremendous amounts of soil from fields. Usually areal flooding leads to riverine flooding as the water makes its way to area stream and rivers.
Urban
Urban flooding occurs when runoff from heavy rainfall overwhelms existing stormwater drainage systems in developed areas. This often causes a myriad of problems ranging from flooded streets to flooded basements and sanitary sewer backups.
Coastal
Coastal flooding along the ocean coasts can occur from storm surges, where water is pushed inland by strong winds associated with a tropical cyclone or an extratropical storm. Coastal flooding of this type can be particularly serious when the storm surge coincides with the high tides and heavy rain.

On large inland lakes or other partially enclosed water bodies, a seiche can result in lake shore flooding. A seiche is a standing or stationary wave generated by strong winds or large changes in atmospheric pressure, though some can result from seismic activities. The wave does not travel horizontally but moves up and down. You can think of it as similar to water sloshing back and forth in a swimming pool or bath tub. In the Great Lakes, for example, the strong winds and large pressure changes associated with the passage of a line of storms can push water to one side of a lake producing a sudden rise in the water level. Once the winds diminish, the water rushes out. Water levels will continue to rise and fall as long as the wave oscillates, from a few minutes to a few hours.
Hazards of Flooding
The geography of flooding
Flooding is caused by rain, but you don't need to have raindrops falling on your head in order to be flooded. Within a watershed, stormwater that falls in the highest, most upstream areas is funneled downstream towards a river's mouth. This adds an extra degree of danger, as people experiencing sunny skies may not be as aware of their flood risk as those experiencing a downpour.
Perspective in terms of other weather hazards
Flooding is also deceptively dangerous because it does not always appear to have the same destructive power as tornadoes or hurricanes. The depth of water over roads and sidewalks can be difficult to gage from a safe distance. Deep water may look calm on the surface, but hide swift currents below. Driving into floodwater is particularly dangerous, as it only takes two feet of water to float a vehicle.
According to the National Oceanic and Atmospheric Administration (NOAA), three fourths of all presidential disaster declarations are associated with flooding. Year in and year out, flooding has a significant economic impact on the Nation. In most years it causes more damage in the United States than any other severe weather related event – an average of $5.3 billion a year for the 30-year period, 1975-2004. During this same period, an annual average of 93 people lost their lives due to flooding.
'A big, gross mess'
In addition to its physical destructive power, the water of a flood can carry a wide variety of contaminants. For example, floodwaters may include discharge from overloaded stormwater or wastewater systems. They may also contain garbage from inundated dumpsters or even live and potentially dangerous animals. After floodwaters have receded, the potential for infection is still increased due to mold and bacteria growth in formerly flooded structures.
In the trash-filled floodwaters near President's Island during the Mississippi River flooding of 2011, a snowy egret floats atop a piece of wood. Source: Keystone USA-ZUMA/Rex Features.
Flood Preparation and Flood Safety
The following tips were taken from floodsmart.gov:

Before a flood:

Safeguard your possessions

Take a household inventory, preferably with photos or video.
Put copies of all critical documents including insurance policies and the household inventory in a waterproof container, store in a safe place.

Prepare your house

Have a working sump pump with battery backup.
Clear debris from gutters and downspouts.
Anchor any fuel tanks.
Raise electrical components at least 12 inches above the home's projected flood elevation.
Place larger items like furnace, water heater, and washer/dryer on cement blocks at least 12 inches above the home's projected flood elevation.
Move furniture and all other valuables to a safe place.

Develop a family emergency plan

Create a safety kit (include water, food, first aid, radio, flashlight, etc).
Post emergency telephone numbers, and make sure all family members know how to use them.
Plan and practice a flood evacuation route with your family.
Ask an out-of-state relative or friend to be your emergency contact.
Have a plan to protect your pets.

During a flood:

Go to higher ground and avoid areas subject to flooding.
Do not attempt to walk across or drive across flowing streams.
If water rises in your home before you evacuate, go to the top floor, attic or roof.
Listen to a battery-operated radio for the latest information.
Turn off all utilities at the main power switch and close the main gas valve if advised to do so.
If you have come in contact with floodwaters, wash at least your hands with soap and disinfected water.

After a flood:

Call insurance agent to file claim if home has suffered damage.
Check for structural damage.
Take photos of any floodwater in the home.
Make a list of damaged and lost items, and take photographs.
Keep the power turned off until inspected by an electrician.
Boil all water used for drinking and food prep until authorities say the water supply is safe.
Prevent mold in the home by removing wet contents immediately.
Wear gloves and boots to clean and disinfect. Wet items should be thoroughly cleaned, completely dried, and monitored for several days for fungal growth.
Notable Midwest Floods
Spring and Summer 2011
April and May 2011 saw record flooding on the Ohio River and major flooding on the Mississippi River due to heavy spring rain, and in the case of the Mississippi River, snow melt. The heavy rains of April 21st to 28th in the Ohio River valley led to major flooding on numerous tributaries of the Ohio River. These rains swelled the Ohio and led to the record flooding near Cairo, Illinois, where the 1937 record was equaled as April came to an end.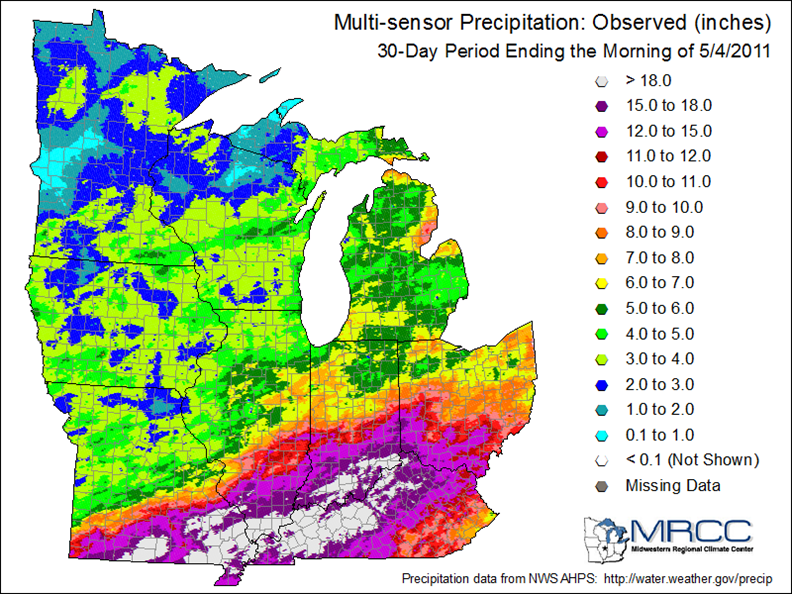 A gazebo in Elizabethtown, Illinois, high atop a knoll along the Ohio River in 2010 (left) and covered by floodwaters in 2011 (right). Photo source: Disclosure News.
For more information on this flood:

Spring and Summer 2008
June was a very wet month across a significant portion of the Midwest, with numerous heavy rain events that helped produce record flooding in Iowa, Wisconsin, Indiana, and Illinois. Precipitation was more than 200 percent of normal across much of Missouri, Iowa, southern Wisconsin, central Illinois, southern Indiana, central Ohio, and northern Lower Michigan.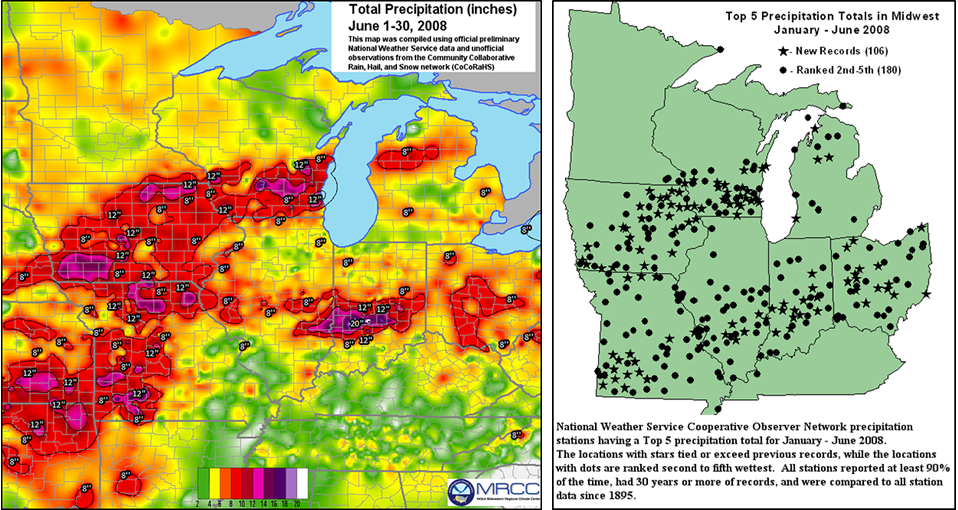 Total precipitation from June 10-30, 2008 (left) and Top five precipitation totals in the Midwest from January to June, 2008 (right).
For more information on this flood:

Spring 1997
In March 1997, a severe weather event produced unusually heavy rainfall from northeast Arkansas through western Tennessee and southeast Missouri, and into much of Kentucky, southern Indiana and Ohio, and West Virginia. In many areas, the rains fell on nearly saturated ground left by the snows and rainfall of the past few months. In parts of northern Kentucky, rainfall rates averaged at least one inch per hour for a 12-hour period on March 1.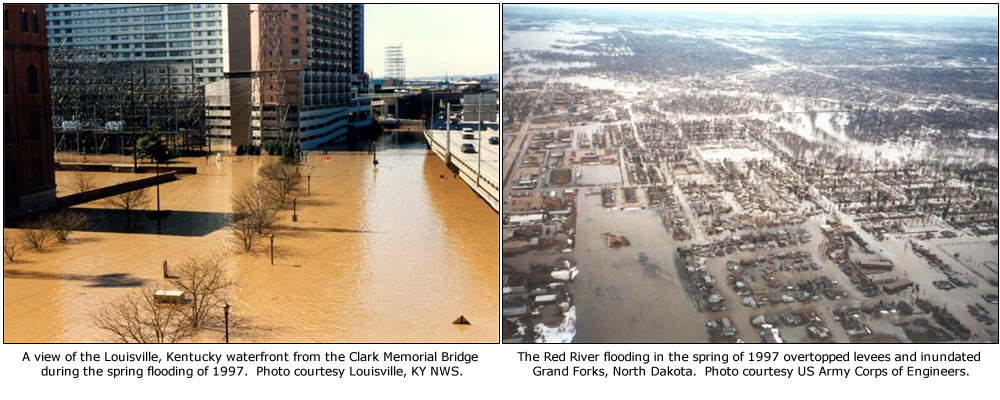 Later, in April 1997, flooding in the Northern Plains occurred due to a long winter of numerous heavy snowstorms. An early April blizzard which dumped up to 3 feet of snow in parts of the northern plains made river level forecasting even more difficult, as the water content and rate of melting of this new snow added another variable to the equation.
For more information on this flood:

Summer 1993
Severe, widespread flooding occurred in the central U.S. due to persistent heavy rains and thunderstorms. A wet spring with saturated soils set the stage for the disastrous flooding. Major flooding occurred across North Dakota, South Dakota, Nebraska, Kansas, Minnesota, Iowa, Missouri, Wisconsin, and Illinois from May through September. Day after day of moderate to heavy rain in the first half of June across the upper Midwest produced flooding along the major tributaries of the Mississippi River in Iowa, Minnesota, and Wisconsin. By June 23rd, flooding on the Mississippi River closed the Port of St. Louis to barge traffic. The flooding persisted and escalated as heavy rains continued in the Midwest during June and July. In St. Louis, the Mississippi River crested at 49.58 feet on August 1, six feet higher than the previous record crest of 43.23 feet in April 1973. The Mississippi River at St. Louis did not drop below flood stage until October 8th, ending 103 consecutive days above flood stage. Many locations along the Mississippi River experienced between 140 and 200 days at or above flood stage that year, while locations along the Missouri experienced 100 or more days at or above flood stage. The Great Flood of 1993 completely inundated 75 towns, destroyed or damaged more than 50,000 homes, halted all railroad traffic in the Midwest, flooded 20 million acres and severely impacted agriculture in the Corn Belt, resulted in an estimated $20 billion in economic losses, and caused 50 deaths. At many locations along the Mississippi and Missouri Rivers and their tributaries, this remains the flood of record.


Aerial views of 1993 flooding in Wabasha, Minnesota (left, courtesy NWS LaCrosse) and Jefferson City, Missouri (right, courtesy Missouri Highway and Transportation Dept.)
For more information on this flood:
January 1937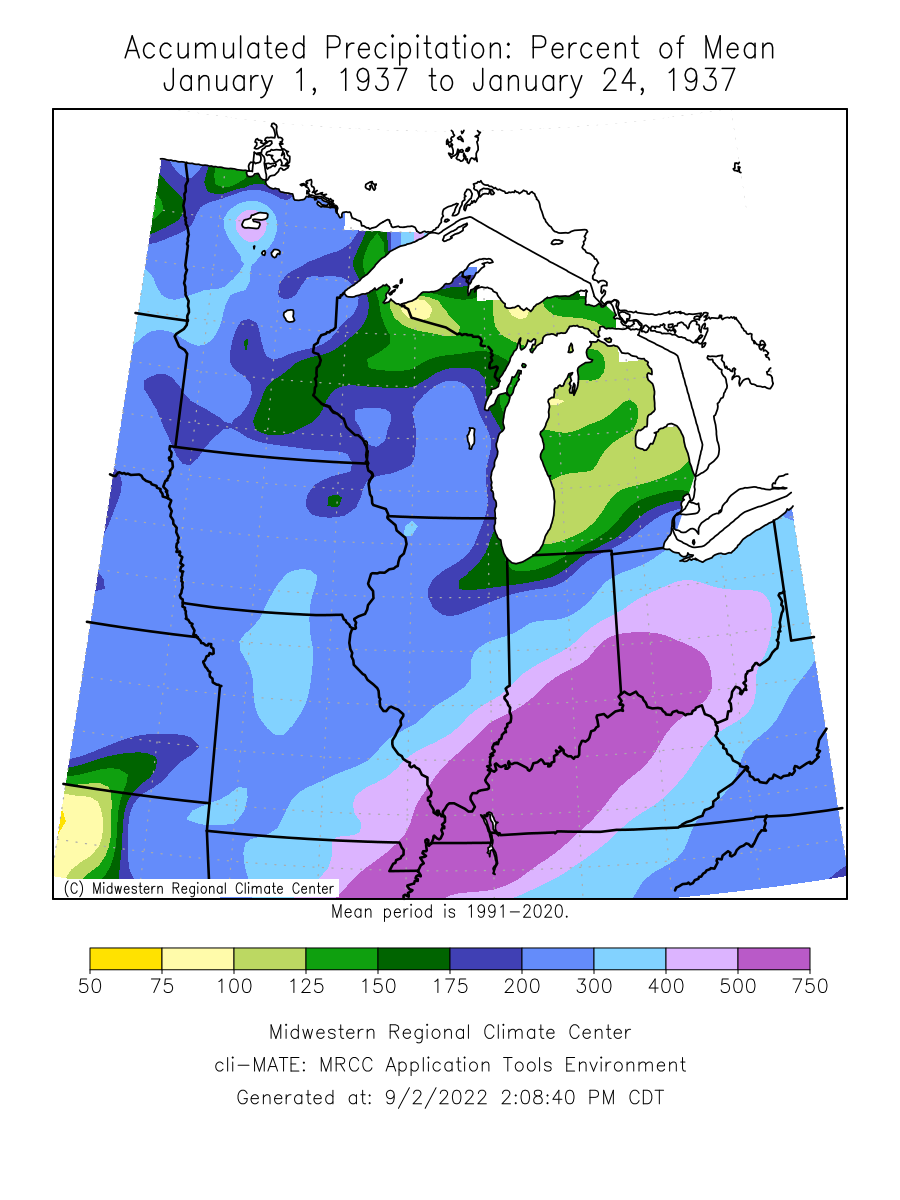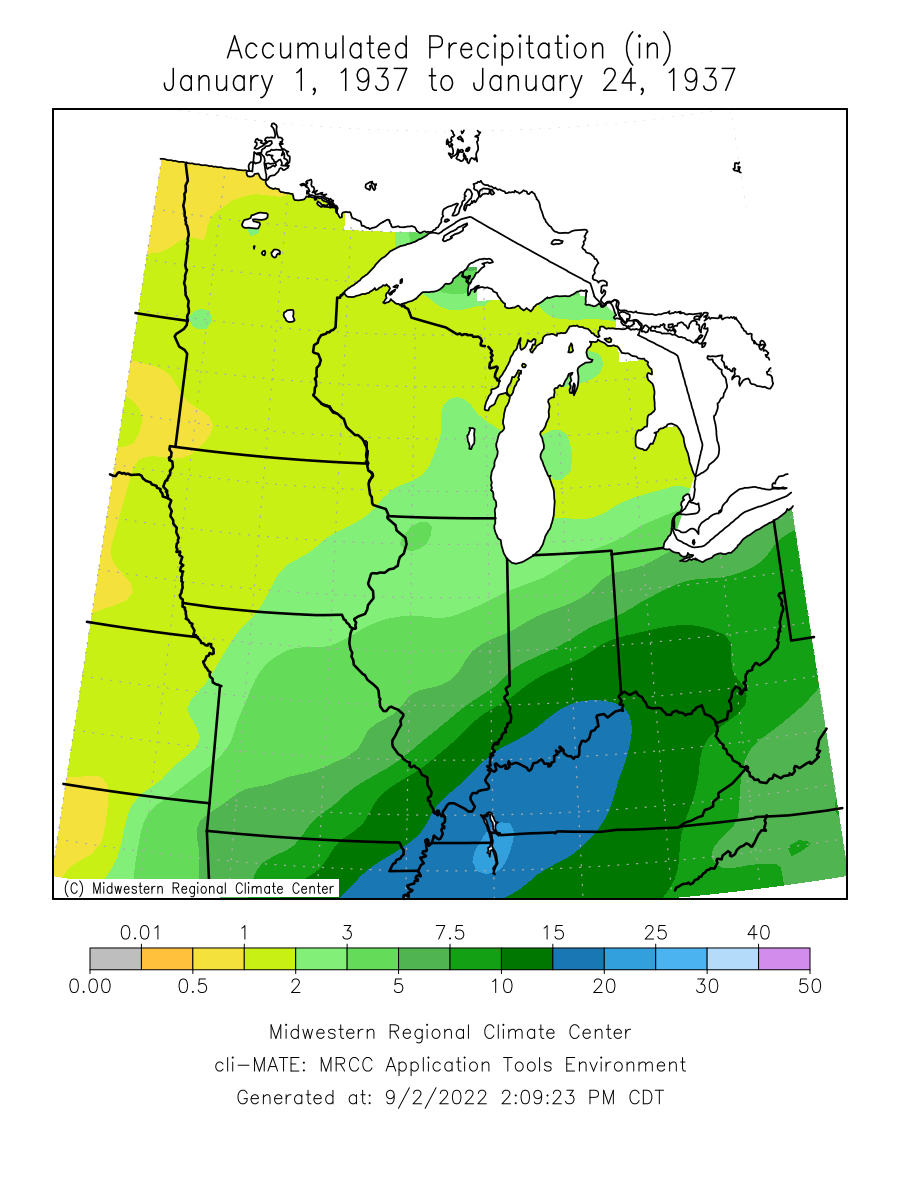 From the Louisville National Weather Service Office: The Ohio River Great Flood of January 1937 surpassed all prior floods during the previous 175 years of modern occupancy of the Ohio River Valley. The overall scope of the flood surpassed the major floods of 1884 and 1773, and geological evidence suggests the 1937 flood outdid any previous flood. Seventy percent of Louisville was submerged, forcing 175,000 residents to flee. Ninety percent of Jeffersonville, Indiana was flooded. At many locations along the Ohio River and its tributaries, this remains the flood of record.
For more information on this flood:


Flooding on the west side of Louisville, Kentucky in 1937 (left, courtesy NWS Louisville) and a gazebo in Elizabethtown, Illinois (right, courtesy Rose Hotel).

March 1913
In late March of 1913 rain fell in such an excess over the Ohio Valley that no river in Ohio and most of Indiana remained in its banks. Bridges, roads, railways, dams, and property were washed away. In its wake, at least 600 lost their lives, a quarter million people were left homeless, and damages were estimated in the hundreds of millions, making it at that time one of the worst natural disasters the United States had witnessed.


Total precipitation for March 23 to 28, 1913 (left, courtesy Midwestern Regional Climate Center) and the corner of Fourth and Main Streets in Dayton, Ohio,
looking north (right, copyright by Smith Bros., image published in US Weather Bureau Bulletin "Z").
For more information on this flood:
Flood Resources by Sector
Public
Municipalities
Agriculture
Water and Energy
Other useful resources