Flash Flood Risk
Flood vulnerability due to flash flood events is dependent on the resilience of communities and its infrastructure. Having detailed, forecasted awareness of the potential for flash flooding could allow communities enough time to implement response plans and deploy essential resources. The timing, magnitude, and location of these events are dependent upon more than how much rainfall is predicted or occurs. By incorporating information about the surrounding environment, including atmospheric and soil conditions leading up to the rainfall event, increased confidence and awareness of risk can be provided.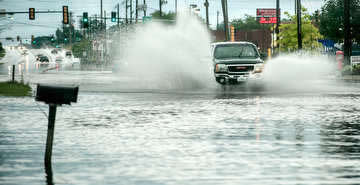 Sponsored by Illinois-Indiana Sea Grant, this project is a partnership between the University of Illinois at Urbana-Champaign and the University of Wisconsin-Milwaukee. Climate and atmospheric scientists explored historical data to improve near real-time climate modeling and forecast models to provide resources that will highlight locations across the region at an operational scale for where flash flooding events are more likely to occur.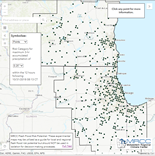 The Midwestern Regional Climate Center's Flash Flood Potential Index tool provides a general assessment of current conditions for numerous locations across the Milwaukee, Wisconsin and Chicago, Illinois offices of the National Weather Service's county warning areas. Based on multiple environmental conditions such as recent precipitation amounts, local topography, and land cover usage, the Flash Flood Potential Index's algorithm forecasts the potential that a given location has of experiencing a flash flood within the next 12 hours, given specific conditions (April-October).