Welcome to the Vegetation Impact Program
The Vegetation Impact Program (VIP) is a monitoring, assessment, and networking program hosted by the Midwestern Regional Climate Center.  Major impacts on vegetation are often driven by weather and climate conditions.  For example, damaging frost events, drought, and even flooding can impact vegetation in areas of agriculture, horticulture, nurseries, or home gardening.  Pests and disease are also driven by environmental conditions. 
The VIP integrates online climate monitoring information, weather and climate outlooks, and stakeholder input to provide a suite of resources that can help minimize negative vegetation impacts, mitigate climate variability effects, and develop adaptation plans to better prepare for extreme and ever-changing environmental conditions.
The Midwestern Regional Climate Center (MRCC) is providing collaboration among weather forecasters, University Extension specialists, state climatologists, and other vegetation experts to improve communication about the state of vegetation and its susceptibility to potentially damaging low air temperatures. To learn more, see our "About Frost/Freeze Guidance" page.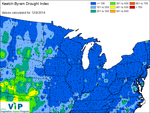 Keetch Byram Drought Index:
Keetch-Byram Drought Index (KBDI) is one of the few daily indices used to monitor drought, and is most often utilized in the wildfire community, for it can give a real-time indication of the drying potential for the finer fuels such as grasses and shrubs.

Chilling Hours:
Maps of accumulated chilling hours and chilling hours departure have been developed for growers to monitor the number of chilling hours over a dormant season based upon popular chilling temperature ranges.
GIS Vegetation Climate Map:
This GIS version contains the Chilling Hours, Keetch-Byram Drought Index, and Stress Degree Days maps, all in one GIS interface.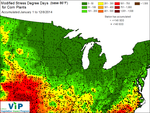 Stress Degree Days:
All plants have an optimum range of temperatures for growth and Stress Degree Days (SDD) are a way of tracking how much stress a type of plant has been subjected to within its growing season.