Climate Maps, Graphs, and Tools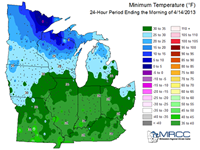 MRCC Climate Watch
Climate maps and other resources developed by the Midwestern Regional Climate Center. The Climate Watch page is your portal for Midwest and Central region temperature, precipitation, soil moisture, and growing degree day maps in daily, weekly and monthly formats. Also available are maps and information for regional and national drought conditions. You can find weekly and monthly climate highlight narratives, as well as a tool to search past events from the highlights back to 2000.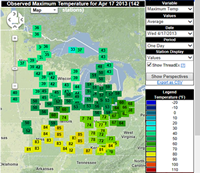 SERCC Climate Perspectives
The Sourtheast Regional Climate Center has developed a highly informational, at-a-glance web mapping and data summary tool. The tool provides daily surface weather information and puts the data into geographical and historical climate perspectives. Streaks, thresholds and ranks are among the climate perspectives that this tool offers for individual stations displayed on regional maps. Our pages default for the Midwest, but you can see information for the entire U.S. by visiting the Southeast Regional Climate Center pages.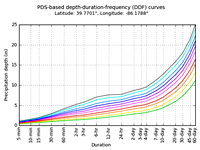 NOAA Atlas 14 Point Precipitation Frequency Estimates
The Precipitation Frequency Data Server (PFDS) is an interface developed to deliver NOAA Atlas 14 precipitation frequency estimates and associated information. This GIS interactive map allows you to zoom in on any given area of the continental U.S. and pick any location by dragging the "+" to any latitude/longitude. First select your data type and duration, then select the location you would like, and the information will load below the map. Estimates and their confidence intervals are displayed directly as tables or graphs via separate tabs. A handy "print page" icon opens a new page with the table, graphs, and maps in printer-friendly format.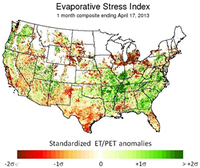 USDA Evaporative Stress Index
The Evaporative Stress Index (ESI), available from the Agricultural Research Service at USDA, describes temporal anomalies in evapotranspiration (ET), highlighting areas with anomalously high or low rates of water use across the land surface. Here, ET is retrieved via energy balance using remotely sensed land-surface temperature (LST) time-change signals. LST is a fast-response variable, providing proxy information regarding rapidly evolving surface soil moisture and crop stress conditions at relatively high spatial resolution.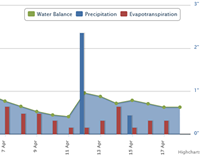 CoCoRaHS Water Balance Charts
Water Balance charts are now available for selected locations in the U.S. thanks to the Community Collaborative Rain, Hail and Snow network (CoCoRaHS) at Colorado State University. Daily precipitation and grass-reference evapotranspiration (ETo) are currently monitored and reported by volunteers at over 100 locations in the U.S. The charts simply show the difference between accumulated precipitation and accumulated evapotranspiration, making it very easy to visualize the onset and continuation of drought as well as drought recovery.