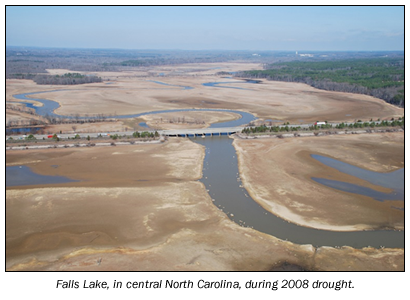 Drought monitoring increasingly takes place on smaller and smaller scales, intensifying the demand for localized information. To meet this growing need, McRoberts and Nielsen-Gammon (2012) developed a computational procedure for calculating the Standardized Precipitation Index (SPI) that incorporates high-resolution, radar-based estimates of precipitation. 
The SPI is a precipitation-based drought index that relates the amount of precipitation falling over a given interval of time to its historical probability.  SPI has several key advantages for drought monitoring, namely its ability to be calculated on any timescale, provided sufficient data is available, giving it the ability to monitor simultaneously-occurring conditions at different time scales. Additionally, SPI values are normalized to the historical record at a specific location, meaning both wet and dry periods can be monitored and SPI values at different locations can be compared without modification.
The SPI calculation methodology developed by McRoberts and Nielsen-Gammon (2012) incorporates daily gridded precipitation estimates from the National Weather Service's (NWS's) Advanced Hydrologic Prediction Service (AHPS), monthly precipitation normals from the Parameter-elevation Regression on Independent Slopes Model (PRISM), and historical gauge data from the NWS Cooperative Observer Program (COOP) network.  McRoberts and Nielsen-Gammon (2012) developed and evaluated this SPI calculation methodology over Texas. In partnership with Texas A&M University and Purdue University, NC State University was granted funding to expand this work to more regions, evaluate its performance, and develop a web-based interface for users to access and interact with the resulting SPI grids.  Development was supported by USDA National Institute of Food and Agriculture (NIFA) and National Integrated Drought Information System (NIDIS), and ongoing support for future work is provided by NOAA Climate Program Office (CPO).
High Resolution Drought Tool Website
A website was developed for viewing and interacting with the SPI data. New SPI grids are generated daily and are typically available by 12pm EST.  Having new grids each day allows climatologists, meteorologists, water managers, and others to monitor conditions as they evolve.  The sub-county detail provided by the product yields valuable information about local conditions, and helps identify areas that may be experiencing degradation or improvements.  To see this tool in action, go to: http://mrcc.isws.illinois.edu/cliwatch/drought/droughtTriggerTool.jsp.
When users first come to the webpage, they are presented with a map displaying the SPI, with information about the date, timescale, and legend at the bottom of the map.  On the left is a menu where users can change the location, date, and timescale.  Clicking 'Submit Options' will redraw the map with the new selections.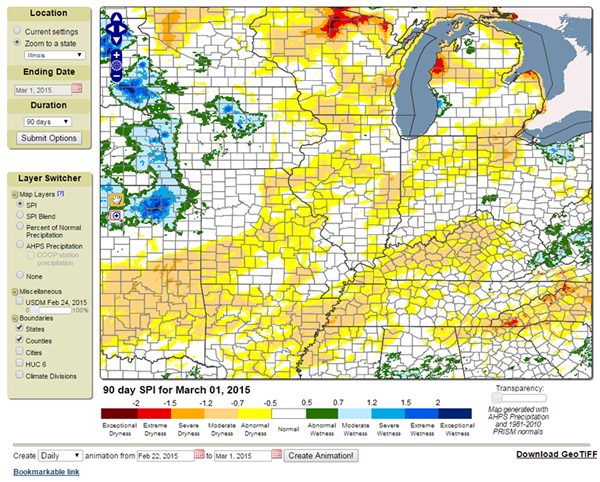 Beneath this menu is a layer switcher where users can choose between displaying four different gridded layers: SPI, SPI Blend, percent of normal precipitation, and accumulated precipitation.  Additional boundary layers as well as the US Drought Monitor map and accumulated surface gauge precipitation from NWS COOP stations can be overlaid.  This gives users the ability to cross-reference the gridded products with the current U.S. Drought Monitor (USDM) depictions and surface observations, allowing users to make a more informed determination about the current severity and extent of dryness.  All these options can be "saved" by clicking the "Bookmarkable Link" link on the lower left of the page.  
Users wishing to have more interaction with the SPI data can click the "Download GeoTIFF" link in the lower right corner of the map webpage to download a GeoTIFF, in geographic coordinates, of the map currently being viewed.  This can easily be uploaded into ArcMap, Quantum GIS, or other GIS software.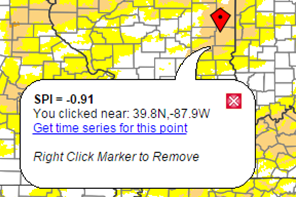 In addition to viewing maps for their desired location, users can click on the map to place a marker and query for the SPI (or other gridded layer) value at that particular grid point.  This will also produce a link that will take users to a page where the time series of SPI for the particular grid point can be viewed.
On the times series page (below), users can mouse-over the graph to see values and click-and-drag to zoom in.  Links to the lower right of the graph can be used to download the time series data as a comma-separated list or image as a PNG. Like the map page, the time series page has various options that can selected and even bookmarked.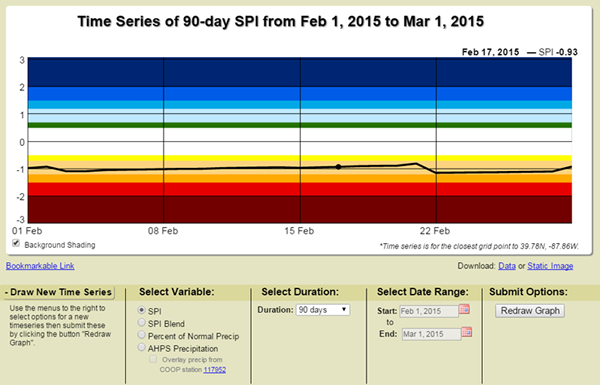 More advanced users can access the SPI grids, which are stored as NetCDF files, on a THREDDS server housed by the State Climate Office of North Carolina.  Grids can be accessed via HTTPS or NetCDF subset service (for downloading), WMS and WCS for viewing in web- or GIS-based applications, or query grids using OPeNDAP for ASCII or binary data. 
What's Next?
The SPI grids discussed here are incorporated into the drought monitoring process by various states and regional centers.  These maps are able to provide valuable localized detail often missed by similar products that rely solely on surface gauge observations.  Work continues to generate more high-resolution drought indices using gridded estimates of precipitation and temperature.  The Standardized Precipitation Evapotranspiration Index, Keetch-Byram Drought Index, and Palmer Drought Indices are all actively being developed.  Once these have been evaluated, they will be added to the website.
In addition to adding more drought indices to the website, the high resolution SPI, and any future indices, will be compared to indicators of drought conditions, such as soil moisture, streamflow, and vegetative health.  Tying SPI values to a specific impact will allow the index to be used as a "trigger" to give notice that conditions may be deteriorating.
Acknowledgements and more information
Development of the high-resolution SPI grids over the contiguous US was supported by USDA NIFA and NIDIS, and ongoing support for future work is provided by NOAA CPO.  We would like to acknowledge the National Weather Service and the PRISM Climate Group for openly providing the datasets used in the calculations of the drought indices found within this tool.
For more information on this article or the State Climate Office of North Carolina, please contact Rebecca Cumbie via email at rvcumbie@ncsu.edu
^Top