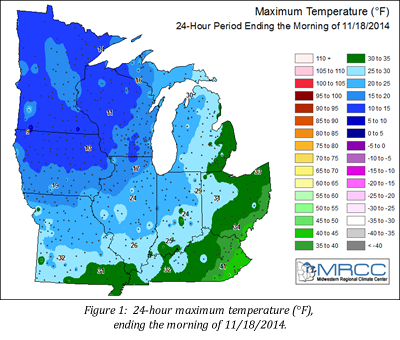 After a mild start to fall with near normal temperatures in September and October, November abruptly turned cold in the Midwest, giving the region an early dose of winter.  The unseasonably cold temperatures spread across the Midwest around November 12th and persisted through almost the end of the month.  One of the coldest days was November 17th, where maximum daily temperatures of less than 30°F were widespread across the Midwest and a few single digit maximum temperatures were recorded in southern Minnesota and northern Iowa (figure 1).  With a preliminary average temperature of 31.4°F, November 2014 is now the 6th coldest November in the Midwest since records began in 1895.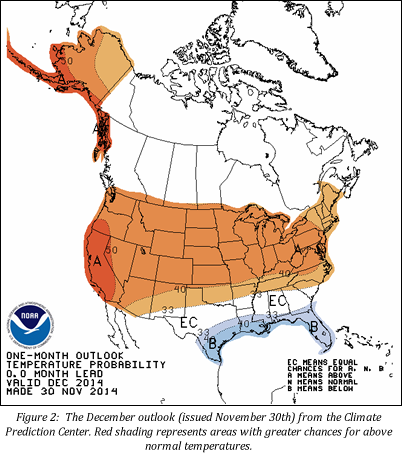 However, warmer temperatures made their way across the region as November came to a close.  In fact, NOAA's Climate Prediction Center (CPC) called for a pattern change for December, forecasting a good chance that a majority of the United States will experience much milder conditions including above normal temperatures across the Midwest (figure 2).

In the Midwest, so far this winter season we have seen a mix of colder-than-normal and warmer-than-normal temperatures.  So what does the rest of the 2014-2015 winter season have in store for the region? 
Accurate seasonal outlooks are difficult to provide, especially when there is no strong signal or driver in the atmosphere, which is the situation this year.  What do I mean by "signal" or "driver"?  I am talking about phenomena such as El Niño, which is the existence of unusually warm sea surface temperatures in the equatorial Pacific Ocean.  Based on previous years with a strong El Niño present in the equatorial Pacific Ocean, winters in the Midwest tend to be warmer than normal, with the chance for drier than normal conditions, specifically in the eastern Midwest.  There is a 65% chance El Niño could develop this winter.  However, if it emerges, it is likely to be weak, making it an undependable driver when it comes to this winter's outlook.

Therefore, NOAA's CPC seasonal outlook for the December 2014-February 2015 time frame shows no clear signal for much of the Midwest on whether temperatures will be above, near, or below normal (figure 3).  There is a slight chance, however, for below normal temperatures in southern portions of the region.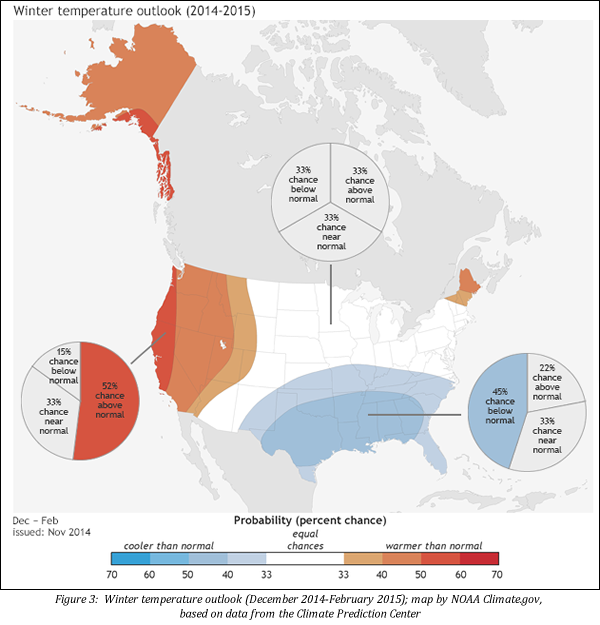 In terms of precipitation, CPC is calling for greater chances of below normal precipitation in portions of the eastern Midwest, which is reflecting the possibility for weak El Niño development (figure 4).  There is no clear signal for the rest of the region on whether precipitation will be above, near, or below normal for December 2014-February 2015.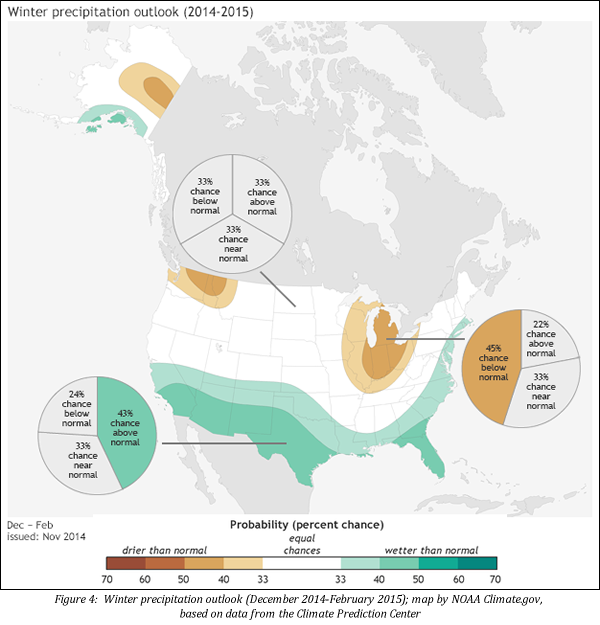 Are there any other methods to make predictions for the upcoming 2014-2015 winter season?  Well, we already know that November 2014 was ranked 6th coldest in the Midwest.  What can climatology tell us by looking at previous cold Novembers in the region and what it might mean for the upcoming winter?  Looking at the ten most recent cold Novembers in the Midwest, four were followed by a colder-than-normal winter, two were followed by a warmer-than-normal winter, and four were followed by a near-normal winter (near normal is defined as within 2°F of normal) (figure 5).  As you can see, it's been a mix.  Therefore, the cold November this year is not necessarily an indicator for a cold winter ahead – although, a cold winter is not out of the question.

Figure 5
Some seasonal outlooks are pointing to the possibility for a colder-than-normal winter in the Midwest.  For instance, research suggests a correlation between rapid snow advancement and overall extent across Siberia and Eurasia during October and colder-than-normal winter temperatures and more snowfall across the eastern United States.  In October 2014, snow cover advance and extent across Eurasia was the 2nd highest in the satellite era which began in the 1970s, meaning a chance for a cold and snowy winter here in the Midwest according to this study. 
Another indicator pointing towards a cold Midwest winter is the existence of a positive Pacific Decadal Oscillation (PDO), which represents a warmer-than-normal pattern of sea surface temperatures in the central and northern Pacific Oceans.  Since the late 1990s, the PDO has been predominantly negative but has shifted to positive in 2014.  A positive PDO tends to support colder winter season conditions across the eastern United States.  A special thanks to the Chicago National Weather Service for the information presented in these last two paragraphs, which came from their winter 2014-15 outlook.
To wrap up, I wish I had a formula to tell you exactly what the winter of 2014-2015 has in store for us here in the Midwest.  Unfortunately, I have to tell you that it really is difficult to determine at this point.   Keep in mind those drivers (October snow cover and extent on Eurasia and a positive Pacific Decadal Oscillation) pointing towards increased chances for a cold and snowy winter in the Midwest.  In the meantime, enjoy the mild December temperatures that we have had so far this month (figure 6), and those forecast in the days leading into the holiday season (figure 7)!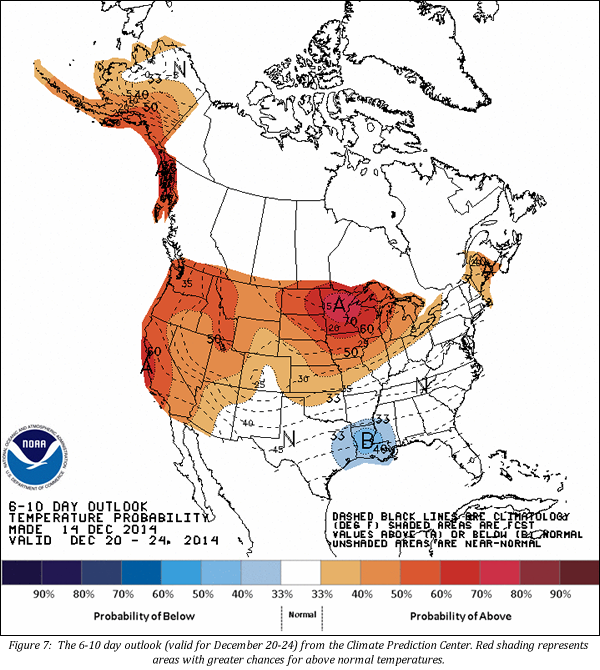 For more information on this article, please contact Molly Woloszyn via email at mollyw@illinois.edu
^Top