The remnants of Hurricane Isaac passed over the Midwest over Labor Day weekend, providing much needed rainfall to drought-stricken Missouri, Illinois, Indiana, Ohio, and Kentucky. Rainfall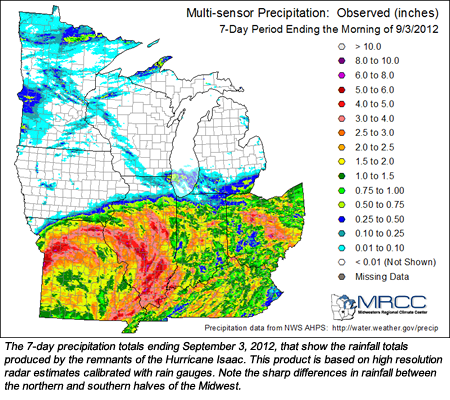 amounts of 1 to 6 inches were common across the region. Some of the heaviest and most widespread amounts fell in Illinois.
Before the arrival of Isaac, the Midwest was in the grip of another major drought. According to the US Drought Monitor, 97% of Missouri, 70% of Illinois, and 39% of Indiana were in the two worst drought categories (D3 and D4). Western and central Kentucky and much of Ohio were experiencing drought conditions as well.
After Isaac, soil moisture has improved considerably. In fact, almost all the rain soaked into the ground, in part because it was spread out over three days in most areas. Calculations by an Illinois State Water Survey senior hydrologist, Vern Knapp, suggest that on average in Illinois only 0.1 inches of runoff was produced during the storm.
After the passage of Isaac, drought conditions eased with Missouri going from 97% to 25% in D3 and D4. Illinois went from 70% to 7%, a ten-fold reduction. Although considered too late to help the corn crop, the rains from Isaac provided some help for soybeans, pasture, and the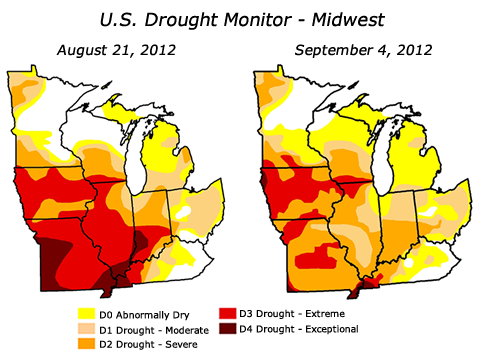 prospects for winter wheat.
It is not unusual for tropical storms to make their way into the Midwest after striking the central Gulf Coast. Of course, by the time they reach the Midwest their winds are considerably reduced. But these large, slow-moving systems can produce lots of rain. Back in 2008, the remnants of Hurricanes Ike and Gustav dropped 6 to 12 inches across Missouri, Illinois, northern Indiana, and southern Michigan.
Perhaps a better comparison is with the drought of 2005. Like this year, portions of Illinois, Indiana, and Missouri were faced with drought while southern Indiana, Kentucky, and Ohio experienced abnormally dry conditions, according to the June 5, 2005 US Drought Monitor. However, the remains of four tropical systems brought needed rainfall into the region, especially along the Ohio River Valley. The four tropical systems were Tropical Storm Arlene in June, Hurricane Dennis in July, Hurricane Katrina in August, and Hurricane Rita in September. As a result, for the period from June 11th to September 26th of 2005, an additional 4 to 8 inches fell across southeastern Missouri, southern Illinois, western Kentucky, the southern half of Indiana, and central Ohio.
While tropical storms such as Hurricane Isaac can cause considerable damage along the Gulf Coast, they can provide beneficial rains as well. In the case of 2012, it provided a jump start to the normal recovery of the hydrologic system that occurs in the fall and winter across the Midwest.
For more information on this article or the State Climatologist Office of Illinois, please contact Dr. Angel via email at jimangel@illinois.edu
^Top