Real-Time Climate Monitoring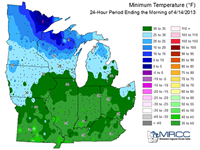 MRCC Climate Watch
Climate maps, narratives, and other resources developed by the Midwestern Regional Climate Center. The Climate Watch page is your portal for Midwest and Central region temperature, precipitation, soil moisture, and growing degree day maps in daily, weekly and monthly formats. Also available are maps and information for regional and national drought conditions.
You can find weekly and monthly climate highlight narratives, as well as a tool to search past events from the highlights back to 2000.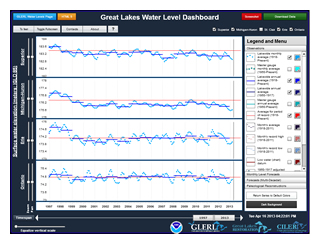 Great Lakes Water Level Dashboard
Developed by NOAA's Great Lakes Environmental Research Laboratory (GLERL) with support from the Great Lakes Restoration Initiative, and in cooperation with the Cooperative Institute for Limnology and Ecosystem Research, this is an interactive tool designed to facilitate visualization, analysis and downloading of Great Lakes water levels and forecasts on a variety of time scales.
Several paleological reconstruction data sets using submerged tree stumps and tree ring data to draw conclusions about past lake levels have been added to the dashboard. In addition, lake level projection data sets from some recent regional climate modeling studies were made available. Both of these types of data sets can add context to our understanding of current lake level fluctuations as well as out attempts to project how future climates will impact these levels.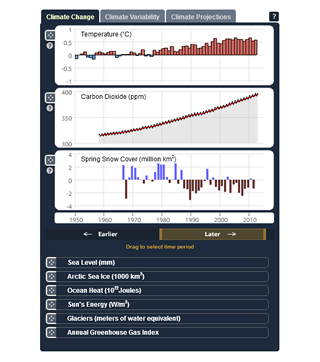 NOAA's Global Climate Dashboard
Just as the dashboard of a car gives you a quick look at the status of your vehicle, this tool gives you a quick look at the status of Earth's climate system (scroll to the bottom of the page to access the dashboard). The interactive graphs let you explore climate-relevant measurements and the relationships among them for different time periods. The climate-relevant measurements you can explore include global temperature, carbon dioxide, sea level, Arctic sea ice, spring snow cover, ocean heat, sun's energy, glaciers, and annual greenhouse gas index. You can also explore variables related to climate variability (e.g. El Niño/La Niña Index and Arctic Oscillation) and modeled climate projections.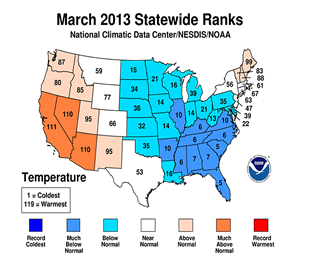 NCDC State of the Climate
The National Centers for Environmental Information (NCEI) prepares an extensive report each month detailing the State of the Climate both globally and nationally. The reports are made available about a week into the following month and cover everything from wildfires to snow and ice to hurricanes and tropical storms, among others. Significant events are noted and temperature and precipitation are ranked for various scales from global to national to state, and even down to climate division. Rankings for the past month, season, and year are all available. The Regional Climate Centers each contribute reports for their own areas describing the recent climate and highlighting significant events.