RESEARCH: ILLINOIS WNV MOSQUITO INFECTION RATE MODEL
CU Crossover Model | DuPage Model | IL MIR Model | IL WNV Threat Model | Resources | West Nile Home
CD1 - CD2 - CD3 - CD4 - CD5 - CD6 - CD7 - CD8 - CD9 - Return to State Map
Historical Maps by County - Historical Maps by Climate Division - All Maps by Year
ILLINOIS MIR PREDICTION MODEL - CLIMATE DIVISION 3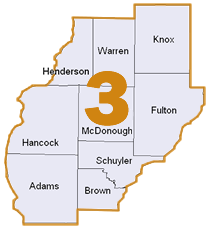 Plots below: Top: Measureand and estimated mosquito infection rate (MIR) for 2017, measured MIR for 2012, and the 2005-2013 average MIR by Climate Division. Week 18 corresponds approximately to the first week of May, Week 30 to the last week of July and Week 40 to the first week of October. Lines can be turned off and on, scales can be expanded, and actual values can be viewed using a mouse. Bottom: Historical (2004-2013) plots of measured MIR and number of human cases per Week.
Years following warm and dry winters as well as hot dry summers are most conducive to high numbers of human WNV cases and high values of MIR. Few cases of WNV are found during wet summers that are either cool or hot. Cool, but dry conditions often result in a late start to the WNV season.
Aside from additional data points, no other modifications to the plots are expected this season.
---
See the WNV Threat model for Climate Division 3
---
TIME SERIES OF WNV HUMAN CASES AND MEASURED MIR BY YEAR
2004 2005 2006 2007 2008 2009 2010 2011 2012 2013